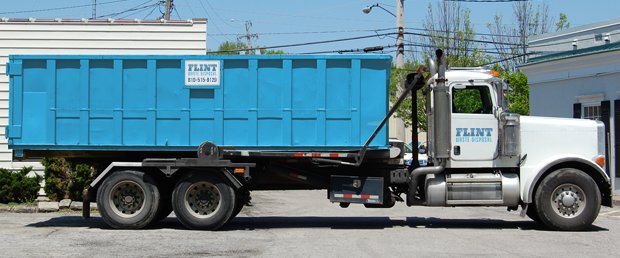 There's something about Flint Waste Disposal that keeps people coming back to us for all their disposal needs. We've got customers from all over the metro area working with us on a daily basis to get their debris sorted, loaded, and disposed of through one of our roll off dumpsters. We're the primary waste hauler for general contractors, landscapers, DIYers, house flippers, and property owners throughout the city. How can you take advantage of our low flat rates? Simple, just call us at 810-515-8129 or request a quote from us to get started.
A Rental Experience Unlike Any Other
Ordering is simple and handled directly by one of our expert customer service reps!
Need an empty and return? We can get your old dumpster emptied out pronto!
A variety of sizes: 10, 15, 20, 30, and 40 cubic yards at your disposal!
No waiting for a representative, you're connected as soon as your call is connected!
Have a particularly tricky disposal problem on your hands? Just let us know and we'll help you find the right solution!
Renting a Dumpster is a Breeze
To order a dumpster from Flint Waste Disposal, all you have to do is call 810-515-8129. This is the magic number, the number that puts you in touch with the waste removal experts; the kings of the junk heap, commanders of the trash can, the generalissimos of garbage, and the best customer service representatives in the business. Any one of our service representatives can help you out with your dumpster rental order. All they need to know is where you need your dumpster, for example in a driveway or in a parking spot, and when you need it. Most orders can be scheduled for delivery by the following business day. In some cases, particularly during times of peak business, we won't be able to fulfill an order for 2 business days. In either case, you'll know at the time of your order when you can expect your dumpster to be delivered.
Once your dumpster is on-site and secured, you can start tackling your debris at your own pace. Every customer is guaranteed a 10 day rental period, giving everyone ample time to get their work site cleaned up. If you happen to need more than 10 days to get your debris cleared up, you can go ahead and keep your roll off dumpster beyond the standard rental period. Additional days cost just $10 on top of the initial rental fee.
Everything you place in the dumpster, whether its boxes of junk, demolition materials, old clothing, or even your old collection of VHS tapes, is properly contained from the moment you set foot inside the container. Each unit has a loading door that swings open to allow you to move larger items inside. Once the dumpster is ready for pickup, all you have to do is swing the door shut, swing the lever into the locked position, and secure the door with the attached chain. Then just call us up at 810-515-8129 and we'll have a driver assigned to your pickup in a jiffy!